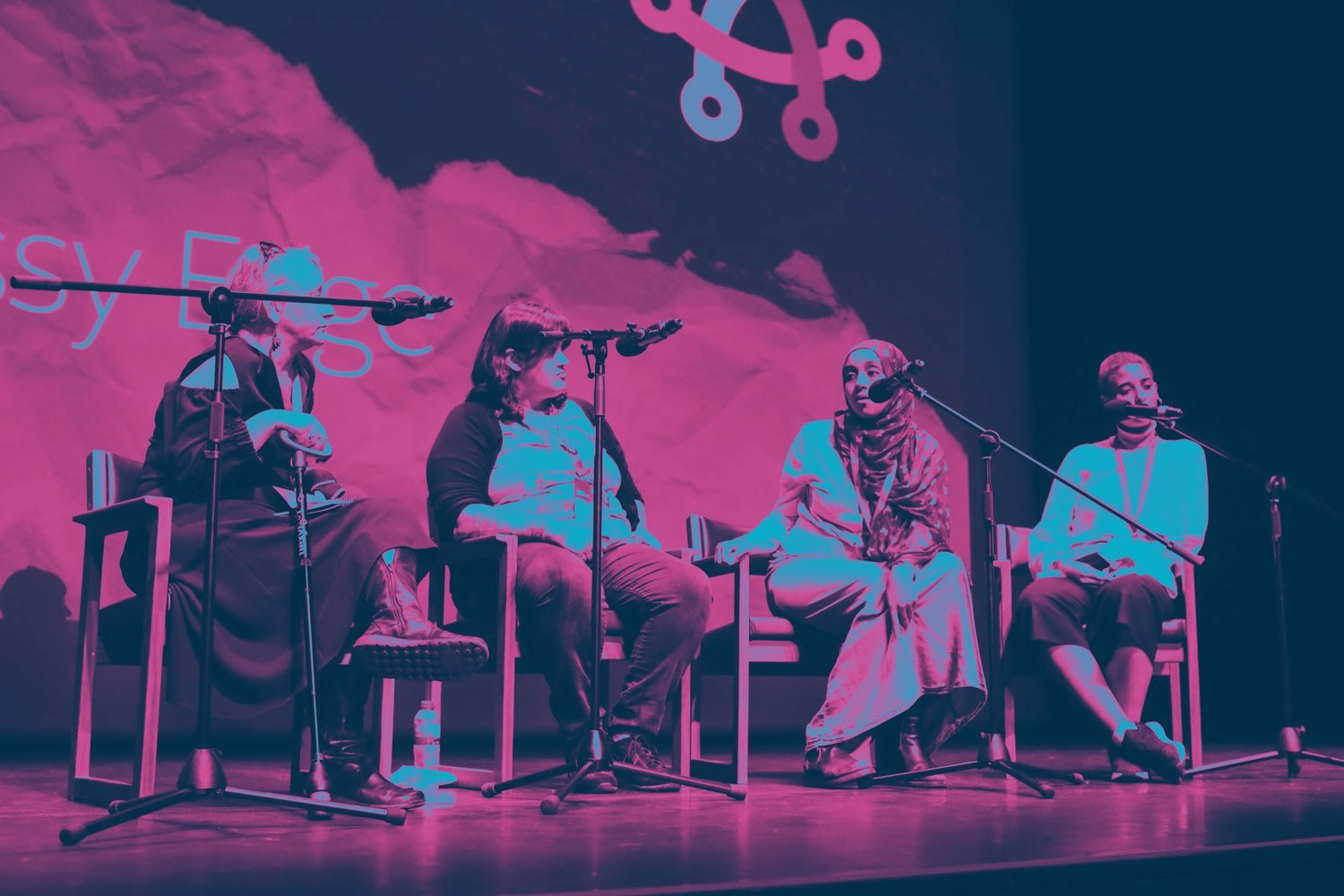 What's next for Brighton Digital Festival? Discover the future of BDF in 2021
We're transitioning into a new home for 2021
Brighton Digital Festival (BDF) is transitioning to become a seasonal programme hosted by Lighthouse rather than existing as an independent company. 2021 will see the start of a major collaboration with two other digital festivals to co-commission a range of exciting outdoor digital artworks. A steering group is being recruited to ensure BDF remains a community-driven platform that supports and encourages people across the city to experience and explore digital culture.
Brighton & Hove is home to a thriving digital and creative sector; it is a city overflowing with talent and ideas – full of potential. Brighton Digital Festival will continue to harness this creativity and support ground-breaking and innovative collaborations which are part of​ ​the very fabric of our city.
Over the last few years, it has been a struggle to fund a year-round, independent organisation that engages with all the different people, businesses and institutions who make up Brighton's digital creative community. To overcome this Brighton Digital Festival will now become a seasonal programme hosted by ​Lighthouse​, with the Messy Edge conference being programmed and managed by ​Wired Sussex​. Both organisations have a long history of supporting BDF in all its different iterations and offer connections into both the digital business and arts-focused folk who are such a key part of our community.
Lighthouse is a Brighton-based arts charity specialising in connecting new developments in art, technology, science and society. The support of the Lighthouse team will enable BDF to fulfil its ambition to enable different people and communities across Brighton & Hove and beyond to develop new work in new settings – as creators, audiences and participants.
The experience of lockdown has highlighted the key role digital technology plays in connecting people to culture – whether it's attending virtual performances, visiting digital galleries or taking part in Zoom pub quizzes. Now, more than ever, we need to ensure equality of access to the production, consumption and understanding of digital culture. Now, more than ever, we need BDF to play an active, ambitious, accessible role within our city to help shape our collective digital creative future.
Having taken a hiatus for 2020 to enable our transition, Brighton Digital Festival will kick-start this vision in 2021 with a collaboration with Hull's ​Freedom Festival​ and the ​Frequency Festival​ of Lincoln to produce the Arts Council funded Digital Democracies programme. Together, the three festivals will commission a range of exciting outdoor digital artworks that will tour the three cities over the course of three years.
The programme that runs alongside will be produced with and by the community. To this end, Lighthouse are currently recruiting digital designers, developers, makers, thinkers and do-ers of all kinds to form a steering group to drive the future of the festival in the coming years. Please ​email Alli Beddoes of Lighthouse for more information.
Our gratitude and thanks to ​Brandwatch​, who have, since 2014 sponsored and supported Brighton Digital Festival helping to make over 30 projects happen.
Further announcements will follow. You can keep up-to-date by following Brighton Digital Festival on Twitter / Facebook / Instagram / LinkedIn.
On behalf of the outgoing Brighton Digital Festival Board:
Jenni Lloyd (chair)
Alli Beddoes, Lighthouse
Cath James, South East Dance
Katja Garrood, Brandwatch
Phil Jones, Wired Sussex
Contacts
Alli Beddoes
[email protected]
Jenni Lloyd
[email protected]
Brighton Digital Festival
Since 2011 Brighton Digital Festival has produced an annual programme of events, taking place over four weeks across the city. The festival celebrates the richness of the creative and cultural industries in our city and explores the ways in which digital technology continues to shape our lives and our thinking. It supports the community to produce an open programme of independent events augmented by high-quality commissioned arts and education programming.
In 2015 Brighton Digital Festival incorporated as an independent Community Interest Company run by the community for the community. Funding from Arts Council England and sponsorship from local companies and institutions ensures the festival remains free for grassroots organisers to deliver great events.
Lighthouse is a Brighton-based arts charity specialising in connecting new developments in art, technology, science and society.
For over 30 years, our programme has revealed new ways of presenting artists and the creative industries, how artistic work and practice can cross boundaries and disciplines, and be used as a way of enhancing digital technology and its place within society.
Key projects include ​Guiding Lights​, the UK's leading mentoring scheme for filmmakers, regular residencies, to provide creative and professional development for a wide range of artists and creative practitioners, ​Last Dance​, a series of events, podcasts, films and blogs investigating the rapid changes affecting UK music and youth culture and ​Lighthouse Young Creatives​ a project for 16-25 year olds who want to work in the creative and digital industries, but who don't have the opportunities, facilities and connections they need. The project is for young people from diverse backgrounds, including those not in work or training.
Wired Sussex is a fully independent not-for-profit membership organisation which exists to support the digital, media and technology sector in Sussex at a local, national and international level. It founded and runs The FuseBox, a unique space in Brighton for digital innovators, tech visionaries and creative technologists.